I enjoy presenting to students, teachers, librarians, parents, and writers of any age and look forward to the possibility of visiting your school, library, or conference sometime soon. Since my books cover a wide range of reading levels, I can tailor my presentations to the interests of students, grades K-12. I also enjoy giving workshops for teachers, librarians, parents, and college students. Additional school visit information packet is available upon request.
"Collaboration with writers of any age can be very powerful. What we professional writers do is what student writers can do, too – discover our voices, write about what we care about, share our writing, and work on revision."
Brochure:
Recommendations: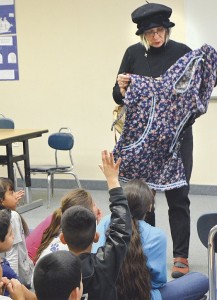 Linda Allen,  of Monroe Public Library in Monroe, WA writes:
"I would highly recommend the author Claire Rudolf Murphy. She recently presented programs at the Monroe and Sultan libraries as well as two elementary schools in the area. She is very knowledgeable, enthusiastic, interesting, well organized and a dynamic storyteller. She emailed me frequently before the program date about various details so I was assured all would go smoothly and it did! Her website at clairerudolfmurphy.com is full of information and even includes a timeline for hosting an author visit. She offers a variety of presentations from writing workshops to storytelling and her experiences as an author.
She writes for children and adults and her main book topics have been fiction and nonfiction about Alaska and the Gold Rush, but she recently co-authored Daughters of the Desert (about historical women of Jewish, Christian and Muslim faiths) and is working on a juvenile title coming out soon titled I am Sacagawea, I am York. We publicized our program as being for ages six and up and the audience included children through senior citizens.
Her program was so much fun, and included inspiration and advice about becoming an author, personal experiences living in Alaska, descriptions of her books, and a rousing Gold Rush story. She used panning for gold and the Eskimo yoyo with audience participants to illustrate the idea of not giving up when writing is not going well. Most important of all she was great at engaging the audience and welcomed any and all questions and comments."
"Claire is a gifted teacher with extensive, research-backed knowledge of the writing process, years of experience teaching it, and a special ability to inspire and encourage students and teachers of all ages …"

— Carolyn Kremers, 

Assistant Professor 

of Creative Writing 

Eastern Washington University

"Thank you for the wonderful day of presentations! The students and teachers were enthusiastic and the sacred stories created by the junior high writers were stellar!"

— Rosemary Conroy
St. Luke's School
Snohomish, WA

"Thank you for coming to our fourth grade classes. I think your books are really neat. I never knew you could fit all that history into one book. I really liked the costume you dressed up in to look like a gold rush woman. I didn't know history was so neat."

— Megan, 4th grader

"Not only was Claire Rudolf Murphy the most popular workshop facilitator at the Young Writers conference, but she was also a sensitive, inventive, and proficient organizer of the program as well."

— Christine Holbert,

 Lost Horse Writers Conference

"I'm really glad I talked to you because you made me want to write more and it made me excited."

— Ashley, middle school student

"I really enjoyed your assembly. When you told us to close our eyes and pretend we were an animal, I pretended I was an Anaconda and I was hunting for koalas and chimps in Africa."

— John, 5th grader
"Everyone – students, staff and parents thought you were great! We'd like to have you back some time."

–Principal Mike, Joy School, Fairbanks, AK