"…This excellent book will influence younger students about our hard-won voting rights…Schuett's illustrations extend the text with details that add to the characterizations and dramatic scenes. Extensive back matter provides short biographies of Bessie and Anthony as well as a time-line about the fight to achieve the vote for women…Read aloud this story to encourage a conversation about voting rights and being involved in our democracy…"
―Children's Book Compass blog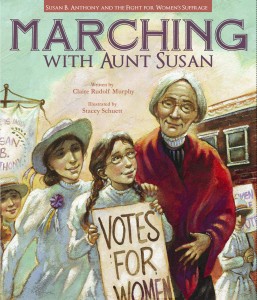 Claire's latest book is getting lots of attention all over the country.
All Bessie wants is to go hiking with her father and brothers. But it's 1896 and girls don't get to hike. They can't vote either, which Bessie discovers when Susan B. Anthony comes to town to help lead the campaign for women's suffrage.
"This earnest story springs from the life of Bessie Keith Pond…Rendered in thick, forceful strokes, Schuett's gouache paintings easily convey Bessie's energy and Anthony's conviction."
―Publishers Weekly
Watch the book trailer!
The new Marching With Aunt Susan book trailer, presented by Get Kdz Lit. Watch the video to find our more about the book and view selected artwork from the book.
More multimedia resources for Marching With Aunt Susan
Slideshow: Click the image to the right to view a slideshow of images from Claire's visit to the Eastern Washinton University library, where she spoke about Marching With Aunt Susan as well as the process of writing for children.
Inside peek: Click here to take a peek at the images found inside the cover.
That Woman & Big Noise: Women's Suffrage in WA: Claire participated in this staged play about women's suffrage in Washington State. Visit the Facebook page to learn more about this play.
Reviews for "Marching With Aunt Susan"
Check out 8-year-old Eden's review of "Marching With Aunt Susan" posted on the Read, Write, Repeat blog.
Read a review by Margo Tanenbaum at The Fourth Musketeer blog.
"…This excellent book will influence younger students about our hard-won voting rights…Schuett's illustrations extend the text with details that add to the characterizations and dramatic scenes. Extensive back matter provides short biographies of Bessie and Anthony as well as a time-line about the fight to achieve the vote for women…Read aloud this story to encourage a conversation about voting rights and being involved in our democracy…"
―Children's Book Compass blog
"…an excellent introduction to the women's movement in general and Susan B. Anthony, in particular…"
―Booklist
" It's difficult today for girls to realize the constraints placed on their counterparts a century ago. Claire Rudolf Murphy brings that era vividly to life in this tale based on the experiences of a California girl named Bessie. […]"Read more.
―Washington Parent 
Claire blogs about Susan B. Anthony
Claire Rudolf Murphy often writes as a guest blogger for literature and reading related blogs.
Click 
here
 to read the post at Kid Lit Celebrations Women's History Month blog, titled "Failure Is Impossible: My Hero Susan B. Anthony."
Awards and Praise for "Marching With Aunt Susan"
Oppenheim Toy Portfolio Gold Award ―Oppenheim Toy Portfolio 2011
Notable Social Studies Trade Books for Young People ―NCSS/CBC 2012
Amelia Bloomer Project ―Feminist Task Force of the Social Responsibilities Round Table of the American Library Association 2012
Kansas State Reading Circle Recommended Reading List (intermediate) ―Kansas National Education Association 2012
Best Children's Books of the Year (starred) ―Bank Street College of Education 2012
Alabama Camellia Awards (nominee, grades 2-3) ―Alabama Department of Education 2012-2013
Teachers' Choices ―IRA 2012
Delaware Diamonds (nominee, 3-5) ―Diamond State Reading Association 2012-2013
And Featured book of the week on the University of Tennessee, School of Information Sciences webpage.