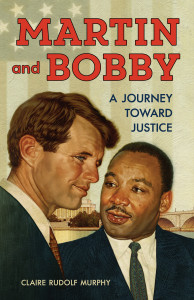 I am delighted with the cover of my newest book coming out with Chicago Review Press this September.
Martin and Bobby, a nonfiction book for readers ten and up, follows the lives and final days and words of Martin Luther King, Jr., and Robert Kennedy, showing how by 1968 both leaders had become allies fighting poverty, racism, and an end to the Vietnam War.
Historic photos help tell the story. King's courage showed Bobby how to act on one's moral principles, and Bobby's growing awareness of the country's racial and economic divide gave King hope that the nation's leaders could truly support justice.
Fifty years later, the lives and words of Kennedy and King still offer Americans inspiration and insight on how our country can face the historic challenges of economic and racial inequality.
A teenager in the 1960s, I have vivid memories of both leaders. Researching and writing this book has also been a personal journey, and I look forward to sharing my book and research during the fiftieth anniversary of their tragic deaths.