This week I am participating in the Children's Author Blog Hop. A few days ago the amazing and prolific Kelly Milner-Halls invited me to be part of this fun idea in which each author answers four questions and then invites three other children's authors to participate. Blog hops are a great way for authors and readers to connect. I invited three talented authors that I teach with at the Hamline MFAC creative writing program for children's writers. See more about them and their new books below.
My answers to the four blog hop questions:
1. What are you working on right now?
I just finished the final edits on my 2014 book My Country 'Tis of Thee: How One Song Reveals the History of Civil Rights, with art by the talented Caldecott Honor illustrator Bryan Collier. Along with serving as an American anthem since 1831, many protest movements like the colonists, the abolitionists, the suffragists all wrote new lyrics to this song in support of their cause. Martin Luther King, Jr. featured the song in his "I Have A Dream Speech." I loved doing the research about these movements and uncovering their connection to the song.
2. How does it differ from other works in the genre?
Because the melody serves as the main character taking us through civil rights history, how it evolved to represent the different groups that make our country so diverse and rich. I wish I had the cover to show right now. It's supposed to be ready soon and I'll post it.
3. Why do you write what you do?
Because I believe it's so important to understand where we came from as a country. I am passionate about the stories of outsiders, the stories of the different civil rights' movements that have helped make our country a "more perfect union." Before this book, I wrote one about Susan B. Anthony and a real girl in the suffrage movement. I like the idea that out of one book comes the next – some kernel of information or truth about life calls the writer forward into the next project.
4. What is the hardest part about writing?
For me, it's letting go of the exciting research and trusting that through the actual writing I can find the best way to tell a story.
My three Blog Hop invitations:
So now let me introduce you to three talented writers that I teach with at Hamline University's MFA in Creative Writing for Children and Young Adults.
Jacqueline Briggs-Martin: Whenever Jackie speaks, I want to listen to every word and phrase she carefully uses. Deep and rich, Jackie is the quintessential writer who loves and delights in ideas and language. Her many beautiful picture books from She inspires me with her beautiful story and her appreciate of children's books and all who read and write them. She brings much grace to our program and her presentations on the use of imagery in picture books, poetry or nonfiction voice – to name a few – are always so thought-provoking.
Author of the Caldecott winner, Snowflake Bentley, Jackie has written many, many beautiful picture books for over two decades. No wonder she is such a terrific mentor teacher, as well as writer. Some of my other favorites include The Chiru of High Tibet and The Lamp, the Ice, and the Boat Called Fish: Based on a True Story.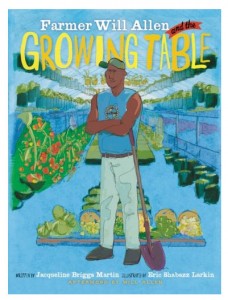 Her newest book Farmer Will Allen and the Growing Table, illustrated byartist Eric Larkin's deals with a subject so dear to Jackie's heart – gardening, in this case an urban farmer who when he looked at an abandoned city lot saw a huge table, big enough to feed the whole world. This picture book biography comes out this fall and I can't wait to get a copy. Jackie describes Will Allen as a Danny Glover like character. How cool is that?
It is being published by Readers to Eaters Books. I can't think of a better publisher for this book. This is my favorite quote from Jackie about her new book: "Many people around the world go to bed each night with good food in their stomachs because of his (Will Allen's) work."
Check out Jackie's Web site: http://www.jacquelinebriggsmartin.com/books/allen.html
Marsha Qualey is a fiction writer of many award winning novels, and a master teacher at plotting and deconstructing stories. What a treat to lead a workshop with her at Hamline and listen to her discuss a craft element in a fiction story or hear a lecture of hers about character development or plot elements.
Her many young adult mysteries and contemporary novels are so riveting, so well constructed, that it's no surprise they have garnered many awards, including an Edgar nomination, ALA Best Book Lists, and two Minnesota book awards. Her latest project is a new venture – her first adult novel and an ebook released in July 2103 by Untreed Reads, a leading digital publisher.Venom and the River: a contemporary novel for adults about the (sometimes questionable) influence of children's books.
Check out her wonderful new web site, www.marshaqualey.com, with the greeting:
Gossip, Blackmail, Lies – about women who love books too much.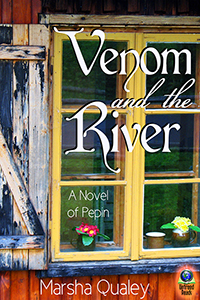 Welcome to Pepin. Ah, yes, I want to read that book.
When several hundred women arrive in a small Minnesota river town for a convention celebrating their favorite childhood book series, one woman finds life is changed forever when she's gently blackmailed into participating. I cannot wait to read Marsha's newest novel. Her stories are always intriguing, surprising and so well written.
Anne Ursu is the author of three books in The Cronus Chronicles series and two books for adult readers. Breadcrumbs, her 2011 book was named one of the best books of 2011 by the Bulletin of the Center for Children's Books, School Library Journal, Publishers Weekly, Amazon.com, and the Chicago Public Library. It was also was an NPR Backseat Book Club featured selection. It was no surprise to us at Hamline because we'd had the privilege of listening to this beautiful novel as a work in progress. That is one of the terrific aspects of our program, the readings of students and faculty on their new work. Anne's presentations at Hamline on plot, point of view and character development are so carefully thought out, so deeply considered that one wants to catch every word. Her instincts about the beauty and nature of fantasy inspire even me, this nonfiction research geek. She makes me believe in other worlds.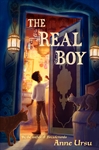 Anne is also the recipient of the 2013 McKnight Fellowship Award in Children's Literature.  Coming this fall is her novel The Real Boy.
"On an island on the edge of an immense sea there is a city, a forest, and a boy named Oscar. Oscar is a shop boy for the most powerful magician in the village, and spends his days in a small room in the dark cellar of his master's shop grinding herbs and dreaming of the wizards who once lived on the island generations ago."
I can't wait to read the entire story after hearing Anne read some chapters. Linda Urban, author of A Crooked Kind of Perfect, says, "the true magic of The Real Boy lies in the powerful friendship that grows between Callie and Oscar." I thought friendship was one of the magical elements in Breadcrumbs, too. Anne is a master at writing stories where characters make choices that matter.  Check out all her books at: www.anneursu.com
I am so proud of my dear Hamline buddies. Read on.