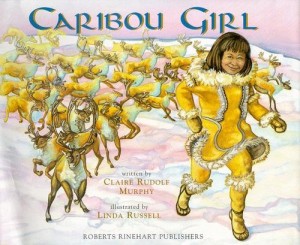 Illustrated by Linda Russell and simultaneously published both in English and in Inupiaq translation.
This book is now out of print. But copies can be bought at used booksellers online.
Caribou Facts
Read more facts about Caribou.
Excerpt from Book:
Long ago in the far north lived an Inuit girl who ran so swiftly, she was called Caribou Girl. Her people lived off the land.
They spent their days traveling across the tundra and hunting the caribou. But one winter Caribou Girl's people were starving because the herd had disappeared.
Caribou Girl ran up and down the hills searching for them. But they were nowhere to be found.
One night she dreamed that thousands of caribou were thundering by. Caribou Girl began running with them and calling out to the hunters. No one heard her.
The next morning Caribou Girl woke up in her itchalik. Her family was still sleeping in their skin tent. She ran outside, hoping to see some caribou grazing nearby. Instead, she found her grandfather, Avik, gazing across the horizon as the sun came up.
Any sign of them? Caribou Girl asked. Avik shook his head. Last night I dreamed about them, Grandfather. Maybe we will find them soon.
Avik nodded. Your great-grandmother, Pakimna, used to dream about the caribou. And when they disappear, she would ask for help from Tatqiq, the Moon Man spirit who controls the game animals.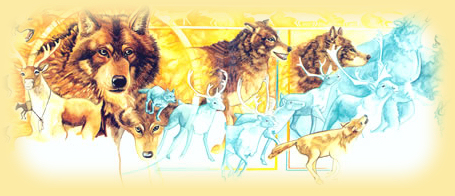 The version below is written in the Inupiaq language, the traditional Alaskan Native language that Caribou Girl's people would have spoken.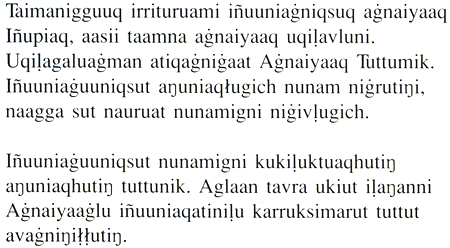 Facts about Caribou
Find out more about Caribou at the Facts About Caribou page.