Claire's latest book is getting lots of attention all over the country.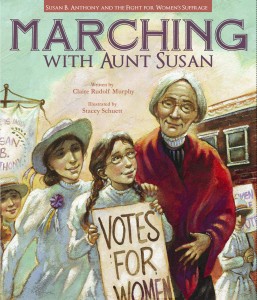 All Bessie wants is to go hiking with her father and brothers. But it's 1896 and girls don't get to hike. They can't vote either, which Bessie discovers when Susan B. Anthony comes to town to help lead the campaign for women's suffrage.
Watch the book trailer here!
Awards and Praise for "Marching With Aunt Susan"
Amelia Bloomer Project http://ameliabloomer.wordpress.com/2012-bloomer-list/Kansas State Reading Circle Recommended Intermediate Reading List* Notable Social Studies Trade Books for Young PeopleOppenheim Toy Portfolio Gold AwardIRA Teacher's Choice Award– Intermediate Readers.Featured book of the week on the University of Tennessee, School of Information Sciences page.
Reviews for "Marching With Aunt Susan"
Click the image to check out 8-year-old Eden's review of "Marching With Aunt Susan" posted on the Read, Write, Repeat blog.
Blog review: The Fourth Musketeer by Margo Tanenbaum.
Claire's blogs about Susan B. Anthony
Claire Rudolf Murphy often writes as a guest blogger for literature and reading related blogs.
Kid Lit Celebrations Women's History Month blog, titled "Failure Is Impossible: My Hero Susan B. Anthony." Click
here
to read it.