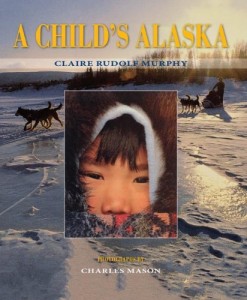 BRAND NEW – First Time in Paperback March 2012
A Parent Council™ Selection
Sequoyah Children's Book Award
Alaska. Say it slowly and it sounds like a melting glacier or endless miles of treeless tundra. Say it quickly and it sounds like a rushing river or an eagle in flight.
Our forty-ninth state is bigger than Texas, California, and Montana put together. What is it like to grow up in a land with more animals than people? Alaskan children play and go to school like children everywhere. But here their game might be the Eskimo high kick or the classroom might be built on floating timber at a logging camp.

Some children live and go to school in towns or cities like Soldotna, Anchorage, or Fairbanks. Others live in the "bush", in tiny villages, snig harbors, or remote cabins. Children who live in the bush may go to small schools with only one or two teachers, or be home-schooled, taking their lessons at the kitchen table. If you want to visit a friend in the bush, you may have to travel by snowmachine, boat, or small airplane because there probably won't be a road to where you want to go.
Whether they live in the city or in the bush, young Alaskans might do ordinary things like belong to Scouts, ride bikes, or watch television. But since this is Alaska, children might also stand in their yards and watch green and pink northern lights dance across the evening sky or look out their bedroom window to see a thousand-pound moose chomp its way through the family garden!
Editorial Reviews
"A combination of photographs, illustrations, and text mix and mingle on each page of this lovely volume to create a kaleidoscope of verbal and visual impressions about Alaska's landforms, wildlife, and people. Murphy describes the area's vastness and uniqueness, and presents geography, history, culture, and natural science as they relate to the changing seasons…The montage of appealing, full-color photographs includes shots of native and non-native people of all ages engaged in daily activities, animals in their natural habitats, and scenic views of the natural landscapes…There's so much packed into 48 pages that readers will want to re-read and look at the pictures over and over again, seeing and learning something new every time."
—SCHOOL LIBRARY JOURNAL
"…What is it like to be a child and live in Alaska; to live in a state where there are more animals than people, and where temperatures may drop to more than fifty degrees below zero? What games and sports do children play? . . . A Child's Alaska  is an exciting introduction to a unique way of life found nowhere else in the United States."


Facts About Alaska: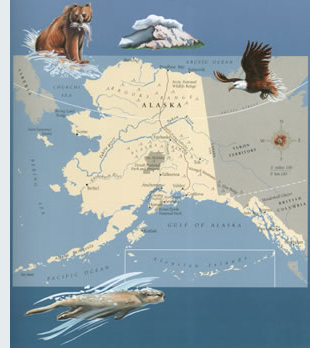 Taken with permission from Nancy Warren Ferrell's student geography book Alaska: A Land in Motion, published by the Alaska Geographic Society.
Origin of the name
Alaska comes from the Aleut word "alaxsxaq" or "agunalaksh" that means mainland or shore.
Population
626,932 (2000 census)
Land Features
space: 591,004 square miles, 16% of U.S. total area
highest point: Mount McKinley (also known as Denali), 20,230 feet above sea level, highest point in North America
number of active volcanoes: 40
coastline: 6,640 miles, 57% of the entire U.S. coastline
Water Features
longest river: Yukon River, 1,400 miles in Alaska, 1,770 total miles in Alaska and Canada, fifth longest river in North America
largest lake: Lake Iliamna, 1,000 square miles
State symbols:
bird:
willow ptarmigan
fish:
king salmon
flower:
forget-me-not
fossil:
wooly mammoth
marine
mammal:
bowhead whale
mineral:
gold
motto:
North to the future
sport:
dog mushing
tree:
Sitka spruce
nickname:
Last Frontier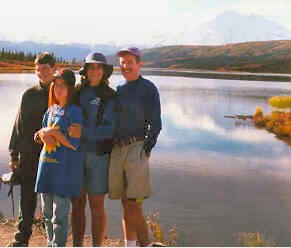 Resources:
 A primary class at Anderson Elementary School on Eielson Air Force Base worked on an art project representing
the traditional art of the native peoples
around Alaska.
Check out this site for a printable Alaskan map.
Look here for panoramic shots of Alaska.